News about the old New Market site in the Philadelphia Society Hill neighborhood.  Toll Brothers has a plan to build 73 brickfront condos with 90 underground parking spaces.  Toll has been very successful with their Naval Square development in Southwest Center City.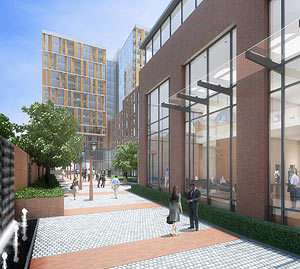 I recently completed a purchase at Naval Square with my client as buyer and was very impressed with Toll's commitment to quality and their quality control processes.  The buyer did a walk thru at 2 weeks before settlement, again the day of settlement then there is a 30 day after settlement walkthru and a 1 year after settlement walkthru.   This gives the buyer every reason to believe that any construction related problems will be handled.
I feel that Toll is a good company to fix this situation in Society Hill.  Here's hoping it goes thru!
Toll Bros.' new Society Hill condo plan | PhillyDeals | 08/17/2011.